A dream comes true
The Gaillac region in south-west France has an impressive wine history! Once known as "Vins de Coq", the region's wines were coveted all over the world because of their top quality and storability.
The best terroir
for great wines
Powerful wines with an elegant structure
Our Bestsellers
VAT included
excl. Shipping Rate
Delivery time: 2-3 days
Product contains: 0,75 l
Natural flavors from France
That's what our customers & wine critics say
La Parrazal 2012
in the scent laurel, graphite and black olives, fleshy, silky and on the palate
spicy. In addition, a super-balanced and very long finale...
Frank Roeder Master of Wine
Chope Le Coq 2019
Berry-fleshy red made from Merlot, Syrah and Cabernet Sauvignon
soft, supple tannins and fine structure. Gorgeous drinking flow…
Frank Roeder Master of Wine
Syrah 2012 La Tarabelle
it has just the right balance between dark berry fruit and delicate
Spicy, fine tannins and compact structure...
Frank Roeder Master of Wine
La Parrazal 2008
The rich, deep dark red color suggests that this is not a lightweight
comes. The rich nose is characterized by fresh, dark berries,
Cranberries, rosehip and dried herbs de Provence. Rosemary,
Thyme, lavender, bay leaf and lots of salty, mineral ones
flavor notes on the tongue. A fruity,
lively acidity on a velvety carpet of tannins. A really easy one
Drinking pleasure that is difficult to slow down in pleasant conviviality
leaves.
Paul Bosch
Un accueil with le sourire de l'Italie.
A très bon moment in a lieu acceptable
Yannick Tillier
La Fee
Friday after the office, open the fridge, open the bottle, enjoy -
quick and painless – Great bottle!!!!
Daniela Zeiler
Dechroche la lune
An uncomplicated white wine made from Chardonny and Sauvignon - without long "breathing" nothing
Earth shattering but nice to drink.
Susanna Huber
Chope le coq 2015
Open and drink - no big talk
Daniela Zeiler
The winery and terroir
If walls could speak: Thanks to its solid construction, the Château de Frausseilles has survived many turbulent times and is now considered a historical jewel of the south-west of France. The Count's winery is located on the Cordais plateau in the north of the Gaillac, a forgotten wine region in south-west France. Embedded in a gentle hilly landscape along the river Tarn, the plateau with its barren soil is considered the best terroir in the region with ideal conditions for great wines. First mentioned in a document in the 15th century and probably built much earlier, Ferdinand Graf von Thun had the weather-beaten building lovingly renovated after acquiring it in 1998 and restored it to its splendour.
rarities –
Renaissance of a unique terroir
The excellent reputation of the wine region has been forgotten - what remains is a unique terroir with enormous potential to produce world-class wines again.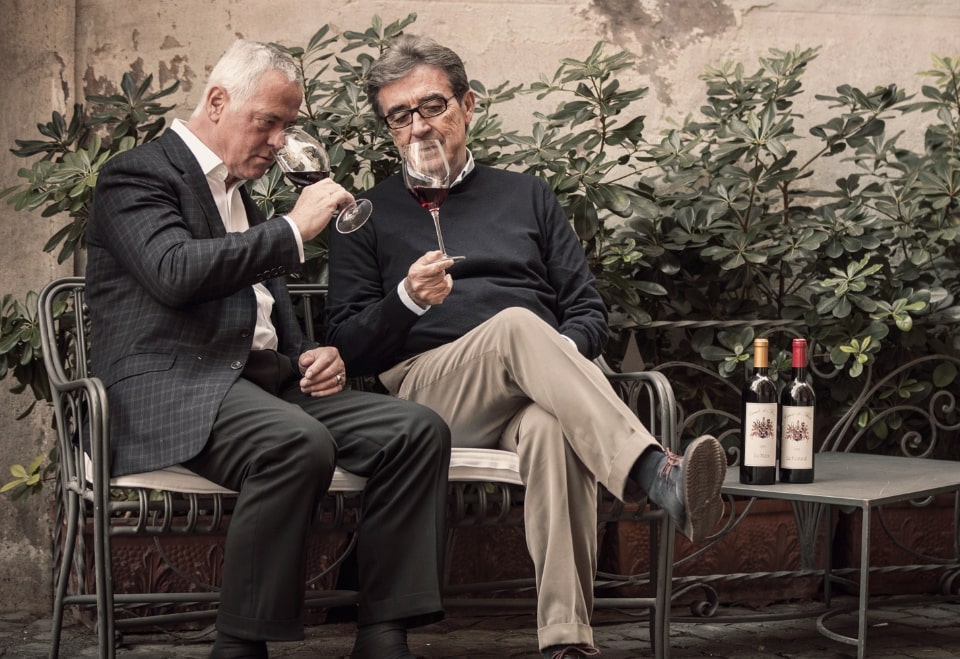 Two friends, one vision
The wine lover Ferdinand Graf von Thun and the oenologist Dr. Riccardo Cotarella combines a long friendship and a bold vision: to make the enchanting Château de Frausseilles one of the pioneering wineries in south-west France.
As in the 13th to 17th centuries, they want to produce independent, storable top wines of world renown - and thus herald the renaissance of the Gaillac wine region.
MORE ABOUT US
Our wines
The wines of "Comte de Thun" are ambassadors of the south-west French wine landscape. In style, they differ significantly from other wines in the area - at the same time they are quite typical of the region, after all they articulate the "Terroir Plateau Cordais" in their very own way. The wines of "Comte de Thun" are an individual expression of the vision of their creators to revive the vinological success of the "Vin de Coq".