Grand Cru wines from the Southwest
The wines of "Comte de Thun" are ambassadors of the south-west French wine landscape. In style, they differ significantly from other wines in the area - at the same time they are quite typical of the region, after all they articulate the "Terroir Plateau Cordais" in their very own way. The wines of "Comte de Thun" are an individual expression of the vision of their creators to revive the vinological success of the "Vin de Coq".
Cabernet Franc
The Cabernet Franc also comes from the "La Maze" site. Herbaceous and spicy, with a scent of dark berries, mineral, with fine tannins and a fresh acidity, the Cabernet Franc is a wine of stature despite the young vines.
"La Maze" Merlot
Dark, almost black - "La Maze" is a densely structured but elegant wine. Its lush scent of wild berries, plums and dark cherries is spiced with white pepper, juniper, green tea and smoke. The very mineral wine has a velvety but firm tannin structure and always shows a beautiful, red-fruity acidity. The hilly Cru "La Maze" is around 270m above sea level and consists of weathered limestone with a clayey topsoil. "La Maze" produces wines with great storage potential.
"La Tarabelle" Syrah
Perfectly reflects the old Gaillac terroir with its barren, high-altitude locations. The soil consists of weathered limestone with a very sandy-clayey topsoil and many fist-sized stones. Syrah has been known in former Gaul since the 3rd century. It reveals a concentrated spice of mixed pepper, pencil point and a potpourri of dark forest fruits, gentleman's chocolate and coffee. Its tannins are fine and firm, its acidity refreshing. This wine has style, charisma and enormous aging potential.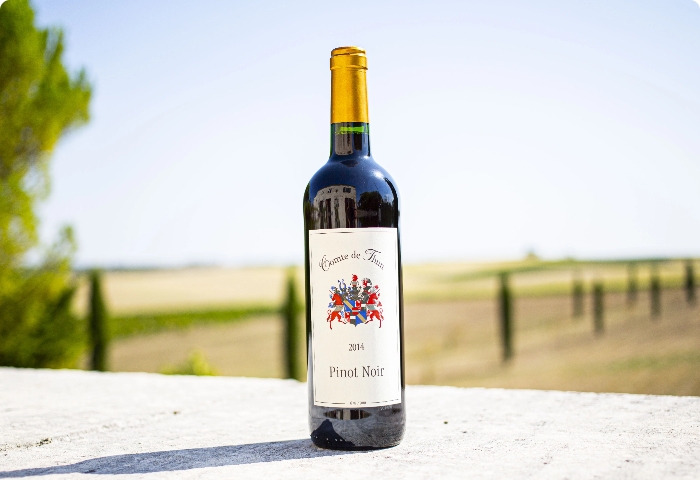 Pinot Noir
The Pinot Noir is at first sight an absurdity - at second a "homecomer". It is delicately scented with irresistible, sweet fruit: pure black cherry, black pepper, fresh menthol and delicate aromas of bacon. Its fine tannins, its fresh acidity and its juiciness let it dance until the long finish.
La Parrazal
The grape varieties Syrah, Merlot, Cabernet Franc and Sauvignon, which have been associated with Gaillac for centuries, find their union in "Parrazal". It perfectly reflects the characteristic features of each grape variety. Its scent is strongly influenced by the Syrah, Merlot and Cabernet show up on the palate with their fruity characteristics of red fruits and cassis. The bouquet is complemented by silky tannins and a herbal freshness.
The Parrazal was created by blending the base wines from younger vines with a much-loved friend of the house, the sommelier Paula Bosch.
specialties
The grape varieties Syrah, Merlot, Cabernet Franc and Pinot Noir express the unique terroir of the Cordais plateau in Gaillac in their own way. "The wine genius comes from the grape variety" said the father of viticulture studies, Dr. Jules Guyot. In this sense, these single-varietal crus are an individual expression of "Comte de Thun".
Whether white wines that are a pleasure to drink, or top-class sparkling and sweet wines - the world of our red wines is rounded off by white counterparts. With the reds, "Comte de Thun" likes to let his wines mature. The castle cellar contains numerous red treasures, which can be offered on request.
TO THE SPECIALTIES